I am happy to share that we've just released a new collection: United States, Border Crossings from Canada, 1895-1956, which consists of 12.5 million historical records.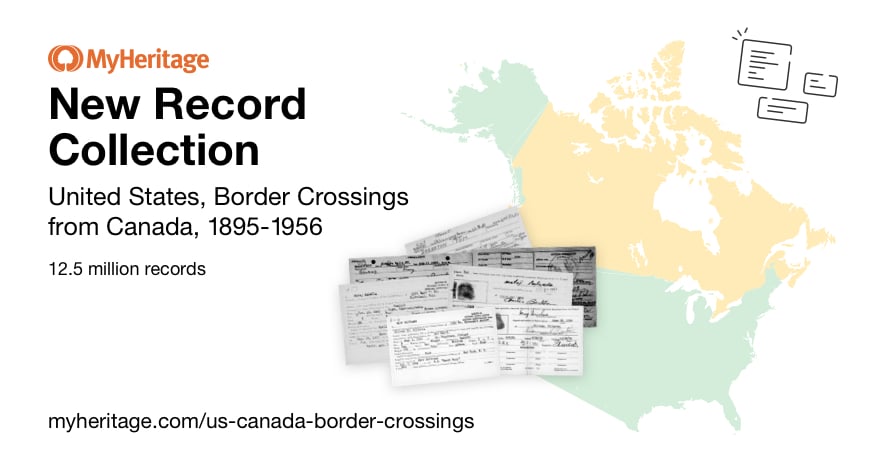 During the late 19th century many immigrants to the U.S. arrived via passage from Canada to avoid harsh inspections at U.S. ports like Ellis Island. The collection, which includes images, is significant as it offers important details of travelers as they made their way to the United States. The MyHeritage index offers additional details not found in other versions of this collection, such as information on family members.
Search the U.S. Border Crossings from Canada, 1895–1956 collection now
The records include the individual's name, age, gender, date of arrival, arrival port, marital status, birth date, birth place, last residence, destination, port of departure, and nationality, as well as the names and addresses of family members both in the United States and the home country. In addition to immigrants seeking citizenship in the United States, many of the records in the collection pertain to U.S. or Canadian citizens passing through the border for work or travel.
You can search the collection now and read more about it in the blog post.
And as it's Abraham Lincoln's birthday today I remind you to watch and share our new ad
Please share this exciting announcement with your audience, along with the blog post and attached visual.
Enjoy,
Daniel Horowitz Genealogy Expert
MyHeritage Ltd., P.O.Box 50, 3 Ariel Sharon Blvd., Or Yehuda, Israel 6037606, Israel, +972-3-6280000