I'm delighted to tell you that MyHeritage has just published 5.8 million records from 28 collections from JewishGen. The release of these records — made possible thanks to MyHeritage's collaboration with the Museum of Jewish Heritage – A Living Memorial to the Holocaust and its affiliate, JewishGen, a leading website for Jewish genealogy — constitutes the first installment of a licensing agreement that will ultimately make almost all the JewishGen records accessible on MyHeritage.
As you can imagine, this announcement is particularly exciting for me, for obvious reasons 🙂 JewishGen is home to important collections of historical records pertaining to Jewish communities across the globe.
The records in these collections will now benefit from MyHeritage's powerful matching technologies, which automatically match historical records with the 83 million family trees on MyHeritage. Also, JewishGen records were available to search and view in English only, however, now international users will benefit from MyHeritage's Global Name Translation Technology™, which allows individuals researching in other languages, such as Hebrew, Russian, or Greek, to search and view these records, with the names translated into their native languages.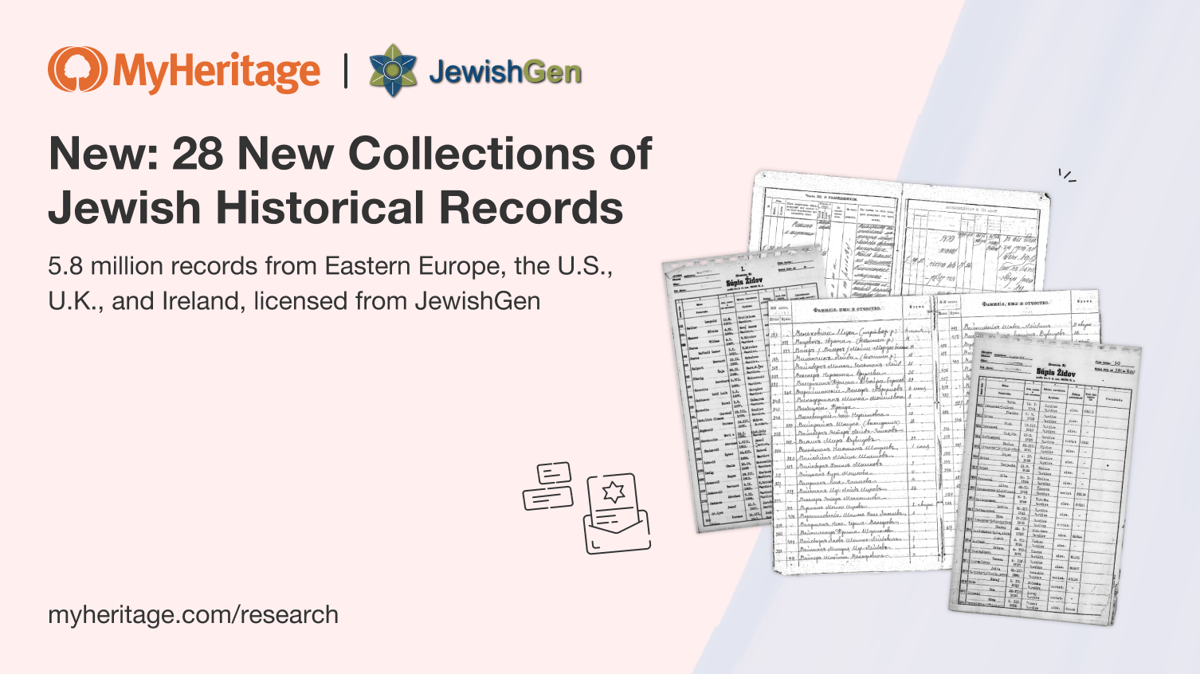 I believe this partnership will greatly benefit anyone researching Jewish roots, and I can't wait to dive in myself to see what I can find. I invite you to spread the news! Feel free to use the above graphic. You can read more about the collections in our blog post here, which includes links to all the collections.
Enjoy!
Daniel Horowitz Genealogy Expert